The new GNOME 3.34 release brings a sizeable set of new features and changes with it, and in this post we look at the best.
Among the shiny goods on offer in GNOME 3.34, which you and millions of other desktop Linux users can look out for, is easier app folder creation, an entirely revamped system profiling tool, and power ups across a crop of core apps.
In short, GNOME 3.34 is a substantial yet iterative upgrade that rounds off some of the free desktop's rougher edges, particularly in oft-mentioned "problem" areas like animations and frame rates.
There's plenty more to talk about so read on to swot up on the best features in GNOME 3.34!
Top GNOME 3.34 Features
#1 Easily Create App Folders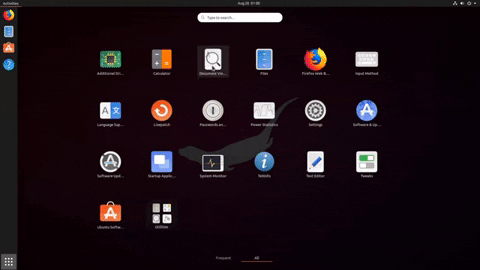 GNOME 3.34 makes it MUCH easier to create app folders in the GNOME Shell 'Application Overview', i.e. the grid of app shortcuts you see when pressing the All Apps icon on the Ubuntu Dock.
And yes: we're talking 'drag and drop' easier!
Just click and hold any app icon in the Applications grid, drag it on to another, and release once you see the 'group' animation. Right-click on any folder you create to give it name, e.g., "internet", "graphics", "office", etc.
By introducing easier app folder creation the GNOME Shell desktop is making it easier for you organise and arrange your software how you want it.
#2 Better Background Panel
I've waxed lyrical about GNOME Shell's "unique" approach to handling wallpapers in the past, so I'm super stoked to see that that the new release makes a stampede of corrective steps in the right direction.
For instance, it's now much easier to preview backgrounds without setting them (helpful when gauging how a particular wallpaper will look with the rest of the UI). You can also set an image as the desktop background, lock screen background, or both, using a new pop-over menu.
And you're no longer limited to picking a wallpaper from top level .jpeg files located in ~/Pictures. Just click the 'Add Picture…' button to pick a compatible image file from anywhere on your file system.
Talking of backgrounds: do check out the official GNOME 3.34 wallpaper if you haven't. It's a corker.
#3 Tab Pinning in Epiphany
The stock GNOME web browser is Web, aka the browser everyone still calls Epiphany. And for its 3.34 update the browser introduces a couple of much-needed features, like tab pinning.
Essential? Kinda! I tend to keep Gmail and WhatsApp Web pinned in my regular non-Epiphany browser. Being able to keep that workflow elsewhere is a strong lure.
There are other Epiphany/GNOME Web improvements too, including better sandboxing and
#4 Better Performance (No, Really)
You're sat there thinking: "Joey, every new GNOME release you say the same thing: 'it's smoother and its more performant'. And yet every time I open the application grid, frames drop faster than heavy rain."
And y'know, you're not wrong.
But the past few releases have genuinely felt more peppy, more instant, more polished to me. Subjective, of course.
During the past six months of development Shell developers, such as Canonical's Daniel van Vugt, the hand behind so many of GNOME Shell's recent performance patches, have worked hard to improving things further. The result is a desktop that should feel more responsive, more fluid, and less sluggish — and, albeit anecdotally, I can attest that.
So if the optimisations proffered in the GNOME 3.30 and 3.32 releases didn't quite meet your expectations, based on the commits alone, GNOME 3.34 will most certainly should.
#5 Superior Settings
The System Settings (or is it GNOME Control Centre? I can never remember what it's supposed to be called…) features a number of miscellaneous improvements in this release, all of which add up to a more pleasing, usable whole.
For instance, Night Light is now a separate tab in the Display panel. This should help make the blue-light filtering feature easier to find and control.
Wi-Fi, probably my most visited settings panel, benefits from better spacing and now shows a connection indicator icon during network connection attempts.
Finally, you can also reorder GNOME Shell search providers in the Settings > Search list using drag and drop. It's not a massive change, but it's a welcome one.
#6 Several New Icons
A crop of GNOME core apps ship with new icons that are in keeping with the new icon style.
These include the task management app Todo, Photos, Videos (aka Totem), and the always dependable Simple Scan (which also swaps to the user-friendlier name of 'Document Scanner').
#7 Music
You might think Rhythmbox is the go-to music player for GNOME Shell desktop, but it's actually the role of the (rather austere) Music.
This overlooked media player gets a chorus of improvements for its 3.34 release, including the ability to watch folders for new or changed files and update automatically.
Core components have been rewritten, there's support for gapless playback, and the album, artist and playlist views have all been updated.
#8 Games Save States
The handy GNOME Games app, which provides a clean GUI to libretro cores for emulating games consoles , now supports multiple save states per game.
This means you can play a game and save as many "snapshots" as you like, so that you can relive a level, store your progress, or pick up the gameplay at a particularly memorable moment.
Another notable Games related improvements: support for Nintendo DS screen layouts.
#9 Improved Sysprof Tool
I'll admit that this particular change won't appeal to everyone, but for developers and debuggers, the revamped System Profile (sysprof) tool is with checking out.
The system profiling utility has a redesign UI, new data sources (including energy, disk and network data) and integration with core GNOME platform libraries, including GTK and Mutter.
#10 Better Boxes
Boxes, the GNOME virtual and remote machine manager, is sporting some very nice changes in its 3.34 release.
For instance, the "New Box Assistant" flow has been improved to make setting ups new virtual machine more intuitive; 3D acceleration is now an optional setting; while the "Windows Express Install" now makes use of a CD ISO image.
One particularly neat feature: have you ever wanted to rescue a virtual machine or test a dual-boot scenario? Boxes 3.34 lets you boot from a CD/DVD .ISO image on existing machines.
Other changes
Activities Hot Corner can be disabled via dconf
Nautilus shows warning dialog when pasting in read-only folders
Activities Overlay features improved "highlight" border
Terminal supports right-to-left and bi-directional languages
Polari IRC client provides a more noticeable offline warning
Various shell UI tweaks, including darker background colour
Getting GNOME 3.34
As a desktop environment made up of many interlocking parts it's not a trivial task to upgrade the entire desktop environment stack.
Many rolling release distros, like Arch and Manjaro, do package and distribute the latest release desktop releases. But most regular distros, like Ubuntu, Fedora and Pop!_OS will stay cautious on whatever version of the desktop they shipped with (point releases excepted).
Tl;dr: it's up to distro maintainers to package this update, not GNOME developers.
This means you cannot upgrade to GNOME 3.34 in Ubuntu 18.04 LTS, or add it to Linux Mint 19.2, etc.
However Ubuntu 19.10 is due for release in October and it will feature this, the newest GNOME release, at its core.
Thanks to BabyWogue