Retro gaming fans can now 'preorder' the Atari VCS on crowdfunding site IndieGoGo.
The Atari VCS is a Linux-powered games console featuring a case design inspired by the original Atari 2600.
A slate of models are available to 'preorder' from today, including a base black edition priced at a not-so-terrible $199.
The device even comes pre-loaded with 100 classic Atari games, and will offer owners the chance to buy and stream modern gaming titles from indie publishers in the future.
Ataribox Vaporware
Like many Linux enthusiasts I was pretty amped when the 'Ataribox' was announced last year. However that enthusiasm soon dissipated.
The Atari VCS runs on Ubuntu and will let users to install apps, other distros, and more
In fact, I almost gave up hope of it ever being released. Cancelled release dates, a dearth of information, missed deadlines and some rather bizarre social media shenanigans gave the whole project the whiff of vapourware.
But Atari has now come up with the goods. Not only are 'preorders' for the impeccably designed console up, but they've dished out detailed specs, and confirmed that the Atari VCS runs on Ubuntu (hurrah!).
Atari VCS Specs & Price
It'd be easy to dismiss the VCS as a games console trading in nostalgia in the mould of the Nintendo SNES Mini.
But it's not just an emulator; the VCS is also a (not super powerful) gaming PC too.
The specs touted in the VCS crowdfunding campaign appear to offer more than enough grunt to handle both retro gaming classics from yesteryear and less demanding modern games from indie developers:
AMD Bristol Ridge A1 APU
AMD Radeon R7 GPU
4GB RAM
32GB eMMC
Atari says it partnered with AMD to create a "custom processor" for the console, which is an APU dubbed the 'A1'. The chip is derived from the Bristol Ridge A10 series, which isn't terrible but is unlikely to run the likes of Tomb Raider on max settings.
But the VCS will be powerful enough to drive a 4K resolution, handle HDR video content, and cope with games running at 60fps.
Despite a low amount of internal storage the VCS supports expandable storage through SD card and USB devices (and if this thing picks up pace as a media consumption hub, it needs it).
The Atari VCS has built-in dual-band Wi-Fi, Bluetooth 5.0, Ethernet, plus 4 USB 3 ports and HDMI out.
OS wise it runs a custom version of Ubuntu atop the Linux 4.10 kernel.
And if all that wasn't enough Atari add that users will be able to unlock access to the "Linux sandbox". From there they can, among other things, switch OS, run a full desktop environment, load other Linux software, and more — here's hoping that running Steam for Linux will be possible, too.
Early bird offers are rather tempting…
Pre-order pricing for the Atari VCS starts at $199. Don't get too excited as this is the lowest "early bird" offer, and only for the standard black and red 'Onyx' model with no controllers included.
Once all of the early bird units sell out (spoiler: there are over 24,000 remaining at the time of writing) the price moves up to $249 for the base model sans controllers — which is roughly the cost of a second-hand Nintendo Switch.
From there the price increases depending on your desired choice of model material and whether you want a joy stick or gamepad (or both) as part of the bundle (hint: you do).
The neat joystick and gamepad can also be "preordered" separately, costing an acceptable $29 for the retro 'classic joystick' and $49 for the Steam controller-esque gamepad (both bluetooth, both pretty stylish).
Atari VCS Games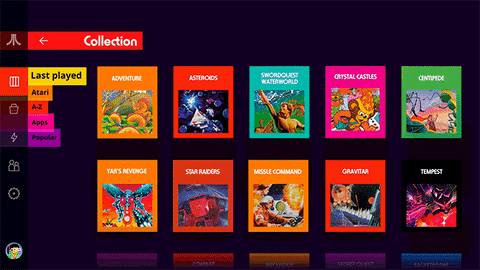 A games console isn't much use without games, so the VCS comes pre-loaded with something called the Atari Vault.
This is a collection of more than 100 classic Atari games "in their original arcade and/or 2600 formats and ready to play".
Niiiice.
Well-known titles like Asteroids, Centipede, Breakout, and Gravitar are likely to be present, though there's no confirmed list of games at present. I'd love to see Pac-Man, Kaboom! and Laserblast included too.
You can see a trailer for the Atari Vault below:
Plays modern games too
Naturally you might want to do more than shuffle some oddly coloured pixels from games of yore — and thanks to the "open" nature of the console, you can.
VCS users will also be able to install other Linux games (providing the VCS can handle them) through a custom online Atari store/subscription service, as well as from the main Ubuntu archives, and (hopefully) third-party stores like Steam and Itch.io.
Tempest 4000, a new entry in the classic Tempest franchise, will be available for the console at launch.
Atari VCS Preorders Now Live
Although Atari is making ample use of the "preorder" this is not a preorder at all. You're simply backing a crowdfunding campaign, not entering a contract to purchase. The campaign may, through errors and issues, never release a real working product.
This is still just a crowdfunding campaign. Therefore do not back it idly and consider the risks typically associated with such endeavours.
Atari plans to work on a second (!) prototype shortly, with a view to manufacturing the model late 2018. As for the actual Atari VCS release date, well that's set for spring 2019 (so don't plan a festive family
Interested? You can make an Atari VCS preorder over on IndieGoGo, where you'll also find plenty more images, videos and other information.