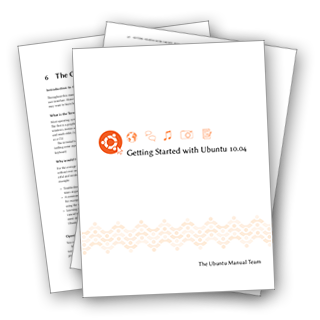 The Ubuntu Manual team have today announced the availability of "Getting Started with Ubuntu 10.04" – a comprehensive beginner's guide aimed for users of all experience but which will be particularly beneficial to those relatively new to the Ubuntu OS.
Features
The guide is written in straight-forward language with an emphasis on showing the reader how to do something rather than boring them with technical jargon and irrelevant background.
Other features of the manual include: –
Progressive learning curve – start with the basics, and learn as you work through each chapter
Dozens of languages – translated into more than 50 languages, including localized screenshots
No cost – our documents are all written by Ubuntu community members and there is no charge to use them
Troubleshooting section – to help you solve common Ubuntu problems quickly
Download
The manual is available as a free PDF download (around 4.5MB) or printed copies can be purchased through the online printing service Lulu.