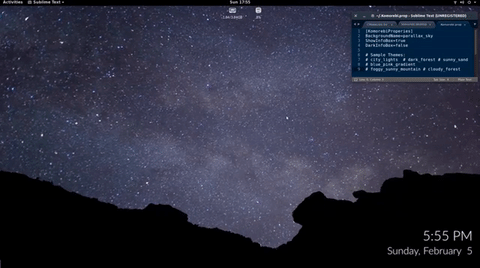 Looking for parallax wallpaper, animated wallpapers, or a cute clock wallpaper for Ubuntu — why not combine them all in one stunning background?
That's what new wallpaper app Komorebi does.
Komorebi Wallpaper App
Developer Abe Masri recently got in touch to tell me about a new wallpaper app that he's built for Linux desktops (specifically for his KedOS Linux distribution, but it runs just dandy on Ubuntu).
It's called Komorebi and is background manager that offers fully customizable backgrounds that can be tweaked at any time, A range of wallpapers are included by default, and range from a parallax-effect starry night sky that reacts to the movement of your mouse, to simple linear gradients.
Your background also doubles up as a clock, as time and date information is overlaid on the background.  If you're feeling super geeky you can also choose to see basic system information, including live CPU and RAM load data.
It's early days for the app, but it's already pretty impressive, as this video shows:
Komorebi is able to:
Display static backgrounds
Show time and date
Display simple system info (RAM, CPU)
Animate over time
Respond to mouse movement
Supports custom creations
Download & Install Komorebi Wallpaper App
Komorebi wallpaper manager is free, open-source software and is available to download and install on Ubuntu 16.04 LTS and up.
Once installation has complete launch the 'Komorebi' app from the Unity Dash:
The wallpaper will replace your existing desktop immediately. To quit the app and return to your normal desktop press Alt + F2 and enter:
killall komorebi
Things to keep in mind
As with other live wallpaper apps for Ubuntu, you're essentially switching a usable desktop space for a stylish one. When Komorebi is running you can't access or place shortcuts, files and folders directly on the desktop (you can still access them through your file manager, though) and you won't get a right-click menu, either.
Parallax/animated wallpapers do use more system resources than a static PNG. Keep this in mind if you plan to run this app on a laptop as more load means less battery life.
Finally, this app, while pretty nifty, is not super n00b-friendly. If you're uncomfortable or unaccustomed to editing files you may prefer to use a different sort of app, like Wallch, Himawaripy or LiveWallpaper.
Changing the background
With the wallpaper app running just right-click anywhere on the desktop to access the Komorebi settings:
This mini-dialog is simple enough: check the boxes to enable a feature, and select a wallpaper from the drop-down selector. Changes take place instantly.
Creating a custom configuration
You can customise any of the included wallpapers by changing the font, sizing and spacing, or animation values in the .config files located in  /System/Resources/Komorebi/. You'll need to be root to edit these files.
A tutorial that explains how to create and customize wallpapers for Komorebi can be found on line. As you'll see, it's not super straightforward, but not too difficult to wrestle with either.
If you create a particularly neat configuration do share a link to it below.